Trentham Brass set off early on Sunday 20th November, 2016 to take part in the Leicestershire Brass Band Association Contest in Loughborough. Having given a creditable performance, everyone was thrilled to be placed 3rd in the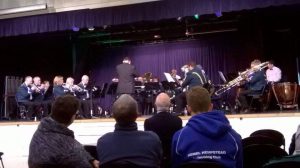 Third Section out of 8 competing bands. Well done to everyone! A special mention to Paula for her wonderful solo performance and Mike for his continued drive and enthusiasm.
Thanks also to our 2 amazing coach drivers, Keith and Tony – who also happen to play back row cornet!
The event gave everyone valuable experience of contest playing and confidence to perform at a high level in the upcoming contests early in 2017.