Shaun Farrington – Musical Director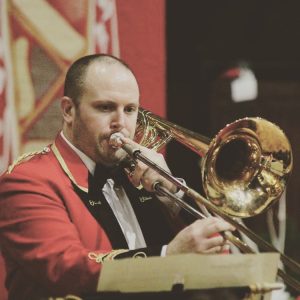 Shaun studied at the University of Salford where he did a BA Hons Music in Band Musicianship.
Whilst studying he received the Roy Newsome Conducting award.
Shaun started learning to play trombone at the age of 11 when he went to High school.
In 1999 he joined the City of Stoke on Trent Brass Band (now Trentham Brass) as bass trombone player. In 2004 he left to join Glossop Brass Band (A Championship Section Band) where he stayed for a year before joining BT Brass Band (another Championship section Band). Since 2009 he has played Bass trombone with Fodens Brass Band.
As well as being an accomplished brass player, Shaun is an excellent piano player. Shaun works for Stoke-on-Trent City Music Service as a peripatetic music teacher and conductor of City Youth Brass Band and City Youth Wind Orchestra. He also works for Entrust Music Service.
Outside of brass banding Shaun enjoys socialising with friends, fishing, watching documentaries and comedy TV as well as spending time with his young family.