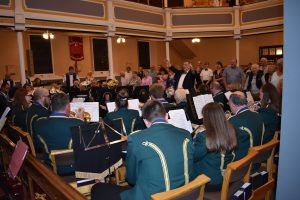 HISTORY
Trentham band has seen many changes over the years since it was formed in the early 1970's as the North Staffordshire Brass Band.
In 1974 the band received sponsorship from Royal Doulton and achieved considerable success as the Royal Doulton Brass Band
It later changed its name to City of Stoke-on-Trent Brass Band to reflect the substantial financial assistance it received from the City Council, and was able to purchase new instruments and uniforms.
In 2004 the band attracted another sponsorship deal, this time Trentham Leisure Ltd (St Modwen), necessitating a further change of name to Trentham Brass Band. The band is currently self-funded and now rehearses at Longton Central Hall, Stoke-on-Trent.
Trentham Brass prides itself for being a band which encourages its younger players to achieve their very best potential, both individually and as part of the team.
Under the direction of new musical director Shaun Farrington the band balances its commitments between concerts in and around Stoke-on-Trent as well as contesting further afield