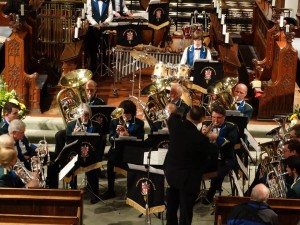 The band continued it's Autumn concert programme with a performance in Rugeley. A varied selection was performed to an enthusiastic audience, including Queen Rules, Buddy, Toccata in D minor and Cortege from Mlada. Special mention should be made of our horn section – Andrew, Joshua and Karen all stepped up!!
Comments from the audience have already been received as follows:
Hello, I would like to say how much I enjoyed the concert your band played last night at St. Augustine's, Rugeley.  The overall sound was fabulous and the drummer was amazing, specially in the Queen  item – Patricia
Just to remark on the fine band music we enjoyed last night in Rugeley. It was very encouraging to see so many accomplished young musicians I thought the trombone player and drummer were remarkable. Thank you for an entertaining evening –  Nigel and Julia.