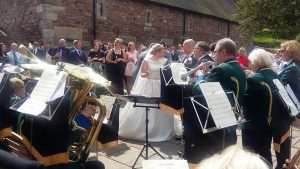 On 3rd June 2017 Trentham Brass Band were delighted to provide after ceremony entertainment for the guests at the Wedding of Danny and Sophie Slack at the Ashes Barn Wedding Venue in Endon.
The sun shone whilst the guests clapped and sang along to the couples chosen tunes such as 'Happy' , 'Uptown Funk', Disney selection, Beatles go Brass. The bride conducted and the groom sang when it came to 'I Feel Good'. There was more audience participation for 'African Funk' with a six piece percussion section made up of wedding guests.
Huge congratulations to Mr and Mrs Slack!