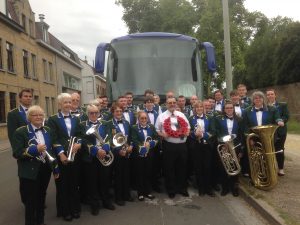 Trentham Brass Band has recently returned from a tour of Belgium and France where the highlight of the tour was taking part in the Last Post Ceremony at Menin Gate in Ypres, performing on the same evening as Huw Edwards read the epitaph as the BBC filmed a documentary in celebration of the centenary of the end of WWI.
A band of 30 players took the ferry to Calais, then a short drive over the border into Belgium to Domein Westhoek where they were based for the duration. The first evening saw the band swap their uniforms for Hawaiin shirts in homage to their fun loving MD, for a final rehearsal before taking their music to the people of Europe. The tour kicked off with a concert on the beach at Carré Plage in Dunkirque. Fittingly for the historic venue, we faced our own battle to hold our ground – against the gale force winds sending the stands toppling and the music flying. Luckily no music was lost on this occasion, but the sop part to Nightfall in Camp took flight later in the week…
Day 2 was a very emotional day, starting with a visit to Tyne Cot cemetery where the band paid their respects to all those who lost their lives during the war. This was followed by an afternoon at the 'In Flanders Fields' museum in Ypres and ended with the Last Post Ceremony at Menin Gate.
One spectator emailed the band to say: "We were at the Menin Gate to observe the ceremony. How fantastic to see a group from our home town there. I thought they played beautifully and would love to know the name of the first piece they played. Very well done to the band, the atmosphere when they played was exceptional. Thank you." The piece in question was Lullaby (Golden Slumbers) arranged by MD Mike Caveney.
There was also a well-received performance on the bandstand in the park in central Bruges. Despite the exceptionally hot temperatures, the band kept a small crowd entertained for a few hours before heading out to experience the delights of the historic town. A trip to the brewery and chocolate museum were a must, before heading back to the hotel.
The trip also saw  a party to celebrate MD Mike Caveney's 70th birthday.
Tired after very long journey home from Belgium.What an amazing time I have had with amazing people.We have laughed, but we have had some very sombre reflective moments.It has been an amazing experience and I would like to thank everyone at Trentham Brass and their respective partners for making it as amazing as it was!– Claire Jervis (cornet player).