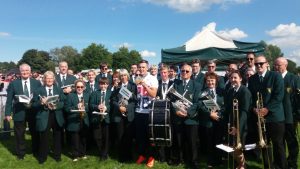 Trentham Brass Band were proud to support Stone Council in recognising and celebrating the Gold medal winning feats of Joe Clarke. What a wonderful opportunity to play in front of thousands who lined the streets of Stone along with around 5000 in the park.
Paula and John were interviewed on BBC Radio Stoke and the band appeared on the radio, the Sentinel facebook video feed and the Express and Star coverage.
To cap it off the band had a photo call with Joe, and that Gold medal.